EBLES Annual Poker Ride & Trail Class **POSTPONED**
Following recommendations by HCBC and Equine Canada, the 2020 EBLES Annual Poker Ride and Trail Class is postponed.

Since this event is integral to our membership and fundraising, we ask that you please renew your membership here: http://ebles.org/?page=membership . This will keep you on our email distribution list for news and when the Poker Ride will be held.

Thank-you for your support in this difficult time,
- The EBLES Executive
2019 Poker Ride Report
33 riders attended our Annual Poker Ride on Sunday April 28, 2019. Funds were raised through the sale of 80 poker hands and entry fees for the 12 participants of the Trail Class.
A special thanks to Adrianna Hamm who judged the Trail Class and came up with a very creative course.
Thank-you to the CRD Parks for allowing us to host this great event and for clearing a lot of overgrown trails the week before the ride.
Thank-you to the 2019 Sponsors
2021 Schedule
Saturday June 20, 2020,
VTRA Fundraiser
Saturday July 25, 2020,
EBLES Painting Party (Weather Permitting)
Thursday July 1, 2021,
Through the Horse's Ears Trail Ride - Photo Challenge
Sunday August 29, 2021,
EBLES Trail Class Fundraiser
Note: The Retriever Club will be hosting an event on June 14, 2020. It is possible the mock shots from these events could spook some horses.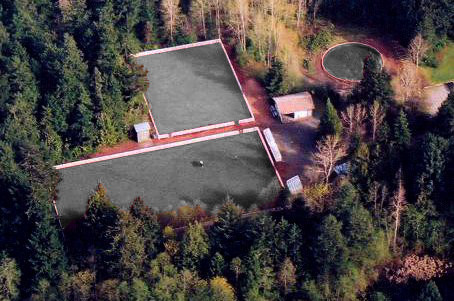 To Book the Ring
The rings at Elk/Beaver Lake are a wonderful facility to host a one day show. There is the main hogfuel ring and a warm up sand ring. There is also a 20 metre round pen.
To book this facility, please contact:

Claire Vessey
clairevessey@yahoo.com
or by phone, 250-391-1790
For all rentals, this document needs to be printed, completed and sent with full payment and damage deposit to Claire Vessey (contact info and address is on the forms):
Google Map to Elk/Beaver Lake Equestrian Centre



Our address is:

720 Beaver Lake Road
Victoria, BC
V8Z 5M2

If you spot a sign for the "Equestrian Centre", you're almost there!
CRD Map to Elk/Beaver Lake Equestrian Centre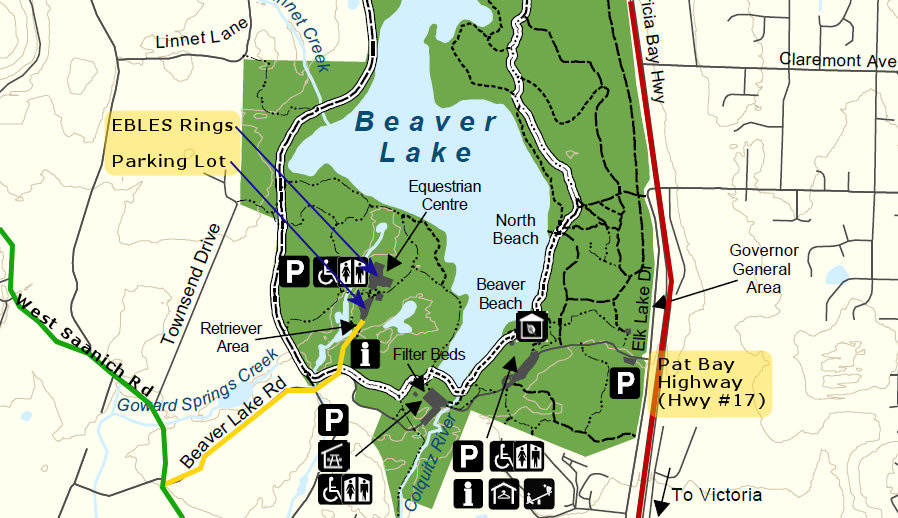 Adapted from a CRD Park map